Posts for: January, 2021
By Central Square Smiles
January 20, 2021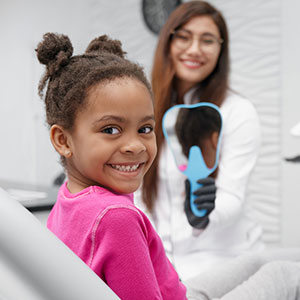 Being a parent can be a rewarding role. But it's also hard work, especially the effort required in keeping children healthy. In that respect, there's one area you don't want to overlook—their dental health.
Taking care of their teeth and gums has two aspects: their current state of dental health and their ongoing development that impacts future health. Fortunately, you can address both the present and the future by focusing on the following areas.
Prioritizing oral hygiene. From the moment your child is born, you'll want to practice daily oral hygiene to keep their teeth and gums clean of disease-causing bacterial plaque. This starts even before teeth erupt—simply wipe their gums with a clean wet cloth after feeding. As teeth emerge, begin brushing each one with a small amount of toothpaste. Around your child's second birthday, start training them to brush and floss on their own.
Limit their sugar intake. The biggest threat to your child's teeth is tooth decay, which is caused by bacteria. These bacteria multiply when they have plenty of sugar available in the mouth, one of their primary food sources. It's important then to reduce the sugar they eat and limit it to mealtimes if possible. Also avoid sending them to bed with a bottle filled with sweetened liquids, including juices and even formula.
Visit the dentist. You're not in this alone—your dentist is your partner for keeping your child's teeth healthy and developing properly. So, begin regular visits when your child's first teeth appear (no later than their first birthday). You should also consider having your child undergo an orthodontic evaluation around age 6 to make sure their bite is developing properly.
Practice oral safety. Over half the dental injuries in children under 7 occur in home settings around furniture. As your child is learning to walk, be aware of things in your home environment like tables and chairs, or hard objects they can place in their mouths. Take action then to move these items or restrict your child's access to them.
Good habits in each of these areas can make it easier to keep your child's teeth and gums healthy and on the right development track. That means good dental health today that could carry on into adulthood.
If you would like more information on children's dental care, please contact us or schedule an appointment for a consultation. You can also learn more about this topic by reading the Dear Doctor magazine article "Top 10 Oral Health Tips For Children."
By Central Square Smiles
January 10, 2021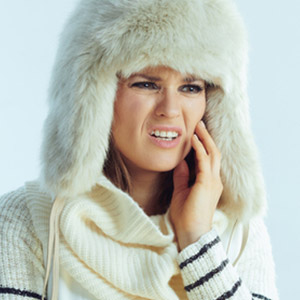 If a breath of crisp winter air makes you say, "Ouch!" you're not alone. According to a study published in the Journal of the American Dental Association, one of every eight people suffers from tooth sensitivity. And for those individuals, winter can be a particularly challenging time of year.
Tooth sensitivity can result when the inner part of the tooth, called dentin, is exposed. Dentin is normally protected by enamel above the gum line and cementum below, but if the protective coating is lost, then temperature, pressure and acid from food and drinks can activate the nerves inside the tooth.
If you suffer from tooth sensitivity, these tips may help:
Avoid acidic foods and beverages. It may be common sense to stay away from foods and drinks that are hot or cold enough to make you wince, but also avoid those that are acidic, as acid can erode tooth enamel and increase tooth sensitivity.
Wait an hour to brush your teeth. After consuming acidic food or beverages, give your saliva time to neutralize the acid and strengthen the enamel surface to prevent erosion.
Brush gently. Gums can recede due to over-aggressive brushing, exposing sensitive tooth roots. So brush your teeth gently with a soft-bristled toothbrush and rinse with lukewarm water.
Use toothpaste for sensitive teeth. Toothpaste that is specially formulated for sensitive teeth blocks the pores in the tooth's surface where sensitivity can occur. It may also to help to rub the toothpaste on sensitive areas.
Sometimes, however, sensitive teeth result from dental problems that need professional treatment in the form of an at-home prescription, an in-office treatment like bonding or sealants, or a procedure like a gum graft or root canal. Accordingly, here's the most important tip of all:
Schedule a dental appointment. In an exam, we can look for the cause of your tooth sensitivity so it can be treated properly. Sensitivity may result from receding gums, tooth decay, erosion of the enamel, or other dental problems, such as the following:
Tooth-grinding. If we detect signs of a nighttime tooth grinding habit that you may not even be aware of, we may recommend a nightguard to wear while sleeping.
A root infection. If your tooth remains sensitive 30 seconds after eating or drinking something hot or cold, the pulp inside your tooth may be damaged. You may need root canal therapy to remove the infection and stop it from spreading.
A cracked tooth. A crack in a tooth may not be visible due to its size or location, but a compromised tooth surface can cause sensitivity and could lead to bigger problems if not treated.
Don't let tooth sensitivity get you down this winter. Come see us so we can discuss the right treatment for you.
If you would like to know more about treating sensitive teeth, please contact us or schedule a consultation. To learn more, read the Dear Doctor magazine article "Treatment of Tooth Sensitivity."