Posts for: January, 2016
By Central Square Smiles
January 22, 2016
As a member of the best-selling pop group Spice Girls, Mel C (AKA Sporty Spice) enjoyed her share of musical superstardom. At the band's peak in the Nineties, the young singer's signature look featured baggy sweatpants, an assortment of tattoos, a nose stud and a gold-capped incisor, front and center in her mouth. Today, Melanie Chisholm is still singing — but now she's a mom, an amateur triathlete… and that gold tooth is just a memory. Not only that, her smile looks more evenly spaced and whiter than it did when she was referred to as the "tomboy" of the group.
What happened? In our view, it all boils down to changing tastes — plus a little bit of help from dental professionals. As the "wannabe" singer proves, there's no single standard when it comes to making your teeth look their best. Your own look is unique to you — and your smile can reflect that individuality.
For example, crowns (caps) are substantial coverings that may be placed on teeth when they are being restored. They are available in three types: gold, all-porcelain, or porcelain-fused-to-metal. The latter two are tooth-colored, while the gold is — well, shiny like gold bling. Which one is right for you? In many cases, it's your choice.
Likewise, dental veneers — wafer-thin shells that can correct cosmetic issues by covering the surface of your teeth — can be made in a variety of shades. Their hues may range from natural ivory to Hollywood white, and everything in between. What's the best color for you? Only you can say.
Some people opt for a "smile makeover" that uses small irregularities in the spacing and color of teeth to create a more "natural" look. Other folks want a perfectly even, brilliant white smile that dazzles the eye. Still others are looking to match or restore the smile they once had — perhaps even re-creating a signature gap between the teeth. As long as there are no other dental issues involved, the choice is yours.
So if you're unhappy with your smile — or if you feel it doesn't reflect the person you "wannabe" — why not talk to us about a smile makeover? Just call our office to schedule a consultation. You can learn more about this topic in the Dear Doctor magazine articles "Beautiful Smiles by Design" and "The Impact of a Smile Makeover."
By Central Square Smiles
January 07, 2016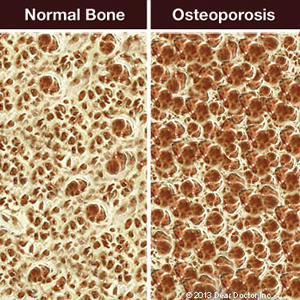 Although periodontal (gum) disease is the most common cause of bone loss in the mouth, women at or past menopause face another condition that could cause complications with their oral bone health — osteoporosis.
While normal bone goes through a balanced cycle of resorption (the dissolving of bone tissue) and re-growth, osteoporosis, a hormone-induced disease, tips the scale toward resorption. This reduces bone density, which weakens the bone and makes them more susceptible to fracture.
Some studies have shown a link between osteoporosis and existing gum disease; however, the greater concern at present from an oral health standpoint regards the side effects of a certain class of drugs called bisphosphonates used in the treatment of osteoporosis. Bisphosphonates slow excessive bone resorption, which helps restore normal balance to the bone growth cycle.
Some long-term users of bisphosphonates, however, may develop a complication in their jaw bone known as osteonecrosis in which isolated areas of the bone lose vitality and die. This can complicate certain types of oral surgery, particularly to install dental implants (which rely on stable bone for a successful outcome). While research is still ongoing, it does appear individuals at the highest risk of osteonecrosis are those with underlying cancers who receive high-dose intravenous bisphosphonate treatment every month for an extended period of time.
It's important then that you let us know before any dental procedure if you've been diagnosed with osteoporosis and what treatment you're receiving for it. If you've been taking a bisphosphonate for an extended period of time, we may recommend that you stop that treatment for three months (if possible) before undergoing oral surgery. While your risk of complications from osteonecrosis is relatively small, adding this extra precaution will further reduce that risk and help ensure a successful outcome for your scheduled dental procedure.
If you would like more information on osteoporosis and oral health, please contact us or schedule an appointment for a consultation. You can also learn more about this topic by reading the Dear Doctor magazine articles "Osteoporosis & Dental Implants" and "Good Oral Health Leads to Better Health Overall."